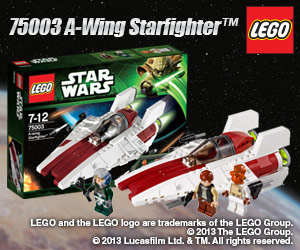 Terms & Conditions
This game is for Hong Kong residents who age 18 or above only.
Questions for each episode will be published half an hour before the corresponding episode on air and game will end on the following Sunday.
Each participant can answer each episode's question once.
Participant have to answer the question and fill in the required personal particulars in order to join the game.
Information collected through this game may be used in the game operations and marketing purposes for sponsors.
For those who answer the questions correctly, we will randomly draw 1 winner for each episode and they will be awarded one 75003 A-Wing Starfighter™.
Pictures featured in this promotion are for reference only and may not reflect the actual gifts.
Winners will be notified individually.
Employees and relatives of the organizer and advertiser are not eligible for this promotion.
In case of any disputes, TVB & tvb.com reserve the right to make any final decision.